Is your Business Ready for a Power Upgrade?
Does your industrial machine need an upgrade? 3 phase power is going to save you time and energy, and we're here to tell you all about it. Help yourself here.
With your business' growing needs, you definitely need to make changes.
Have you been considering upgrading your industrial machines' power? Maybe you've been considering making the switch to 3 phase power from single or two phase.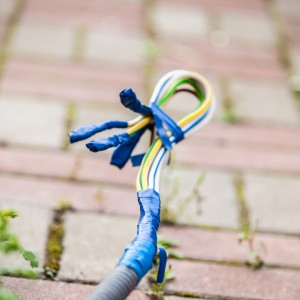 If so, then you're in the right place. This article will help you identify if adapting your industrial machines single or two phase power to 3 phase is what you need.
You Don't Need to Rewire Your Building
3 phase power is often talked about in industrial circles as the better option when compared to single phase power. However, installing a 3 phase power system often brings high costs associated with rewiring your entire building.
So what can you do if you want to take advantage of 3 phase power?
You can adapt your power service by using a rotary phase converter unit to provide reliable 3 phase power. A rotary phase converter is the best option since it acts as a generator and there is no additional mechanism that will compete with your machine for the supplied single phase or two phase power.
A rotary phase converter is one of the most effective ways to power more than one piece of 3 phase machinery, once the converter is adequately sized. Therefore, you can enjoy the benefits of 3 phase power!
If you're thinking about what the advantages of a 3 phase system are, read on. We'll tell you all about if you need to upgrade.
There Are Many Advantages of 3 Phase Power
There are many reasons why switching 3 phase power is the best option for your industrial machines, whether your company specializes in woodworking, milling, manufacturing, agriculture or the like.
Here are a few to get you thinking. These will help you evaluate if you need to make the upgrade:
1. 3 Phase Power Machines are Simpler and More Affordable
Machines that operate on 3 phase power are often smaller and more affordable than those that run on single phase or two phase power.
They're much smaller in size and have less construction when compared to single phase power machines that have the same rating. This makes the motor more efficient, which keeps more money in your pocket.
A case in point would be a single phase motor that needs an extra mechanism to get it running, which results in a higher total cost on your end, and less power efficiency.
Additionally, 3 phase powered motors are simpler. This is because 3 phase power systems produce a magnetic field with a specific direction and sustained magnitude, so any electrical motors that run using this system are less complicated.
What about power efficiency, though? How does a 3 phase power system stack up against a single phase or two phase one?
2. Power Efficiency is Higher with a 3 Phase System
One of the main reasons why you have industrial machines is to cut down on labour costs in your industry. However, running a single phase system could actually still cause to incur more labour and installation costs.
A 3 phase system increases the power efficiency of each machine and cuts down the number of machines you have to install and operate to get the same output as that of a 3 phase system.
Increased power efficiency means more output, which undoubtedly means more profit. Which is a good thing, considering that the wood industry is on track to rake in 29 billion by the end of 2016.
That being said, it can be expected that heightened power efficiency leads to more power savings, right? Let's take a look.
3. 3 Phase Power Equals Higher Energy Savings
In the same way that a 3 phase power system is much more efficient than a single or two phase one, a 3 phase power system also saves you big on energy costs.
Since the number of equipment installed is reduced, as well as how much power each piece of equipment, in the long run, you'll save more money on energy. If rising energy costs have been eating away at your margins, making the switch to 3 phase power might alleviate your problems.
If you have a single phase or two phase system, then you'll know a thing or two about power loss and how it affects your machines productivity. Where does a 3 phase system fall when it comes to that?
4. Fewer Power Losses Occur With a 3 Phase System
Machines that run on 3 phase power need less copper wire to distribute the same amount of power than those that run on single phase power. That being said, energy distribution with 3 phase power is more even and results in less power loss.
The voltage and current in a 3 phase power system reach its peak value after 0.006 seconds, whereas a single phase power system achieves peak value after just 0.002 seconds. Therefore, less power loss happens with a 3 phase power system.
A single phase power system leaves much to be desired in this area since the flow of electricity is pulsating. A 3 phase power system's voltage is much more constant and helps your industrial machines to run better.
3 Phase Power Systems are the Better Option
We live in an age where nothing is as valuable as efficiency and time (it's actually a business' most valuable resource.) A 3 phase power system is the best option to stay on trend and keep your industrial machine performing at their peak.
Are you more seriously considering the switch now? If so, you're in luck! As mentioned at the outset, you don't have to rewire your entire building to take advantage of a 3 phase power system.
All you need is a rotary phase converter. Precision Motor Repair supplies and installs the highest quality Dyna-Phase rotary phase converter units, which provide a reliable 3-phase power solution to your single phase problem.
Your days of inefficiency and exorbitant energy costs ends here. Read more about our mission and qualifications here.
Afterward, visit our contact us page to drop us a line or request a quote, and a member of staff will follow up with you promptly.
Which power system are you currently using? How well has it worked for you? We'd love to hear about it. We Looking to help Commercial Business in rural areas of Halifax, St.Johns, New Brunswick, Nova Scotia, Charlotte town and other Major areas of East Coast Canada. Or Anyone who would be looking for 3 phase power for industrial machines such as.... Woodworking Machines Milling Machines Manufacturing Agricultural Packing Lines / Conveyor Belts Mold Press.